Who is this guy?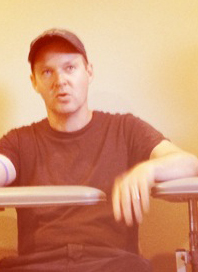 My name is Ryan Dougherty and I love design, typography, color and texture.  All comes together hopefully in my works. I have been painting in this technique since 2002 to hopefully give people art in their life that is fun and unique.
I received my BFA in Graphic Design / Visual Communication from Kansas State University where I graduated in 1999.  Post college I worked as a designer for Hallmark Cards in the Licensing Design Studio for 11 years.  Putting design aside, I couldn't stop layering paper and paint.
I live in very green, Greensboro, North Carolina with my loving wife and 2 beautiful children.
You can contact me at: rdough2@gmail.com